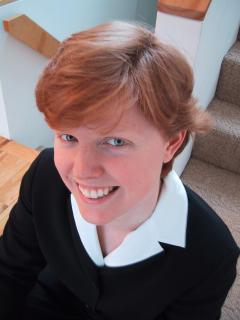 Click here for a larger image
Photo credit: Pehr Anderson
Please feel free to reproduce this photograph
About The Author
Teresa Esser spent her time at MIT studying Brain & Cognitive Science and Creative Writing. She graduated with a single bachelor's degree and two different areas of expertise.
While the scientists and engineers on campus struggled to turn their ideas into world-changing corporations, Teresa Esser studied their personal habits in an attempt to discover the source of their vast power.
Esser's first work of nonfiction, titled The Venture Café: Secrets, Strategies, and Stories from America's High-Tech Entrepreneurs, contains anecdotes and advice from more than 150 entrepreneurs, venture capitalists, executive headhunters, corporate lawyers, and engineers.
The Venture Café is a highly readable (and often extremely funny) introduction to the individuals who will drive tomorrow's most influential corporations.


Contact Information

Teresa Esser lives with her husband, Pehr Anderson, and daughter in Milwaukee, Wisconsin.

You can contact Teresa via e-mail, teresa@alum.mit.edu, or telephone: 617-308-7672. (Updated 2004)

Teresa is available for interviews and speaking engagements throughout North America.

Ann McCarthy is the official print publicist at Warner Business Books.
Ann McCarthy's phone number is: 203-319-1840
Her e-mail address is: ann.mccarthy@aoltwbg.com

Read the official press release prepared by Warner Business Books.

Read a chatty, informal essay about Teresa Esser's goals for The Venture Cafe.